Name: Uchiha Sasru
Bloodline/Clan: Uchiha
Kekkai Genkai: Sharingan (Three Toma)
Age: 18
Element: Lightning
Village: Konohagakure
Rank: Hokage
Ninja Type: Sasru is a well rounded ninja as he likes to master all types of techninques but has found that he more talented at Ninjutsu and Genjutsu then most ninja. Its in fact that his mastery over Ninjutsu in a certain element is why he recieved his nick name. His mastery of genjutsu is one of the reasons why he feared by some ninja becuase they now he could make see horrible and unforgetable things.
Appearance: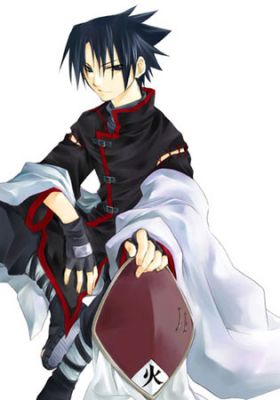 Personality: Sasru was a good person, cheerful and happy until the day of his brothers death after that Sasru didn't talk to anyone. He would still do missions for his village but people saw him as a shadow of his former self. Sasru has began to show signs of improvement and has started to open his self to only certain people like his his closest friend Jin.
Background: Sasru was from the uchiha clan because of this he sought out to be the best ninja he could be. He was the son of the clan leader this pushed him further in his quest to become a top ninja, at a very young age he displayed a high level of skill, he was seen a prodigy since he started to train under his father guidance. Sasru graduated from the ninja academy only after 2 years of attending
part of this was due to the fact that he had awakened his sharingan early and had mastered two tomo in on eye. After he was placed in a three man squad with highly skilled sensei, he grew close to his team mates even though he had a rivalry with one of his team mates who was another Uchiha who was already highly skilled with his Sharingan so Sasru saw it fit to keep challenge his team mate to fight but
always seemed to fall at the last hurdle. After going on a range of missions he would still seem to fall behind his team mate even once being saved by his team mate form enemy ninja. Sasru and his team mates where entered into chuunin exams early the exams where hard on you of them and it was Sasru's
determination that kept him going. When The chuunin exam finals had arrived it was only him and Jin that had made it the first round we both passed with ease but then fate made it so Sasru would have to fight Jin In The final fight. The Battle went o forever and the odds were stacking in Jin's favor, As His sharingan skills where greater than his own and threw him into the arena wall
thought it was over but Sasru got back up and awakened in hospital he was told by his friend they had both been promoted to chuunin A few years past and Sasru had completed more missions and began to gain greater control over his sharingan and begin to master his second element. This would see him get promoted to jounin. Years of training saw him master a thrid element and master a range of jutsu. He would later start to be call Konoha's Lightning Bolt due to his mastering of Lightning Jutsu. He would later be chosen to be an anbu captain and lead a squard of anbu on a mission of great importance to the village, he would see his squard almost killed by a group of rogue ninja but stopped them just in time and finish them off, he would later complete the mission and return home to Konoha a hero. A year pasted and Sasru would be summoned to the hokages bed side where the hokage was falling ill to a virus that would kill him. Sasru listened to the hokages last words as the hokage had chosen him to be his succesor as the new Hokage of the leaf village.
RP Sample: The moon filled the sky with it radiate glow has it faded into the night sky. Ryu was on a mission of great improtance to the hidden leaf village, Ryu was on an assassination mission. By the hokages orders he was to find an thief who stole some anicient scrolls that belonged to the uchiha clan, kill him without a bit of evidence and return the scrolls. He thought to him self it would be easy enough but the hokage had warned him not to take this ninja likely. The hokage had given him a scroll which an anbu made to aid him in his mission. he folloed the map and it led to a small village on the border of land of fire. he decided it was a good idea to buy some civilian clothes so he could scout the village for escape and entry routes. he spends the day searching for his target but is spotted by a group ninja and they back him in the corner, he looks helpless until he remembers his fathers words that he told him all those years ago "Ryu, remember this as long as you have the sharingan you are unstoppable". With that message courseing thorugh his brain, he activates his three toma
sharingan and stares down the thugs. The leader didnt looked worried and that was his biggest mistake, the battle didnt even last five minutes but ryu threw if
any one found these bodies it would jepordise his mission, so he used one of the many escape route he found this one was harder due to the fact he was dragging five bodies behind him. he found a remote spot not to far from the village, he begain to dig the graves and it started to rain and he thought to himself "hmmm isnt that annoying" but he didnt make him stop so he carryied on digging until he was done and then he buried the bodies side by side. even if they tried to kill him he knew he had to give them a burial, he placed there headbands on the graves.
Thanks to this little incident Ryu's target had left the village so he had to track him down again and this time without any special anbu map. he started at the hotel where his target had been staying, to his suprized he had found a scroll with directions to, he stopped in disblieve his target was heading to the village hidden in the mist, a village the leaf had been with peace with for decades. he strapped the scroll to his waist and headed out.
Ryu ran as fast as he could he knew he would have to get to the target before he could reach the mist village. his time was short but a bit of luck occurred he found tracks and they were fresh he knew the ninja was not to far away. he thought to hisself he could circle around and head his target off. he flew threw the trees with tremendous speed and stoud still for while then he coould hear footsteps he jumped out and stood in front of his target. but when he turnt and faced his target, he could'nt believe his eyes. it was his brother Sasru Uchiha, Ryu couldnt believe, he didnt want to believe it. He spoke with cautious tone ' Sasru, what are you doing'. Sasru remained silent, Ryu's anger started to grow and he screamed ' ANSWER ME'. Sasru formed hand signs and breath in deeply and said 'Great Fire Ball Jutsu'. Ryu moved as fast as he could and hid behind a boulder, then his brother spoke ' poor poor Ryu, you have no idea what your getting yourself into, and to answer your question im doing this for power'. Ryu couldnt believe his ears ' For power, thats what this all about'.
'I'm sorry little brother but in the world of the ninja only the strong survive, now brother it is about time you DIE'.
Ryu ran into the forest as Sasru started to use his knowledge of fire jutsu to his advantage, using the phionix flower techinque a move that not even there father had mastered. Ryu was thinking "why didnt Itaki tell him it was his brother who had stolen the scrolls". Ryu started to disbelieve in his self and his abitltes, he could hear his brother shouting ' Come out, come out where ever you are'. After hearing that he had memories of the chuinnin fight with Itaki and he fought 'No im going to die here, im going to use'.
Ryu jumped out into the open and stared down Sasru with his sharingan. Sasru started to laugh ' ha ha ha, you think your sharingan can compare to mine'. Ryu Answered with a Grand fire ball techinque forsing Sasru to use his earth style techinque using his stone armour techinque making Ryu fire ball techinque useless. Sasru still laughed but Ryu remember back to his chunnin exam where he witnessed a fire techinque strong enough to melt rock and which he used his copy jutsu to master it. Ryu started to laugh and he confused Sasru. Sasru began to speak again ' Why are you laughing, as long as i can use my stone armour your fire techniques are useless'.
'Yes, but there is one technique not even you have seen'
Ryu formed the tiger hand sign and screamed at the top of his voice ' GREAT DRAGON FIRE JUTSU, its over brother'. Sasru couldnt get out the way in time you could hear him scream. Sasru was dead, Ryu looked over the cindered body with tears running down his face. He buried his brother under a oak tree and left the remains of the head band on top of the grave. It was at this moment he sure a wooden box out that far from the oak tree. it was the scrolls, Ryu's mission was a success. He started to walk back to leaf village when he looked back at his brothers grave and said ' Sorry brother, i wished it didnt have to end like this'.
Ryu finally returned to leaf village and stepped into the hokages office and placed the scrolls on the desk. The Hokages said 'ah i see your mission was a success'. Ryu looked into the eyes with his sharingan and walked away but before he could leave the hokage had one more thing to say ' I'm sorry about your brother Ryu, I just thought you had to be the you to stop him'. Ryu turnt around and said ' My brother may have been a tratior but he was still my brother'.
Then Ryu left the office.
(This is from my other Rp Site)