Name: Kagurasaka Kaiser
Bloodline/Clan: Hikari Clan
Kekkai Genkai: The Forbidden Eye
Age: 15
Element: Earth - Doton
Village: (Mist Village)
Rank: Jounin
Ninja Type: More on Genjutsu and Ninjutsu for manipulating papers.
Appearance: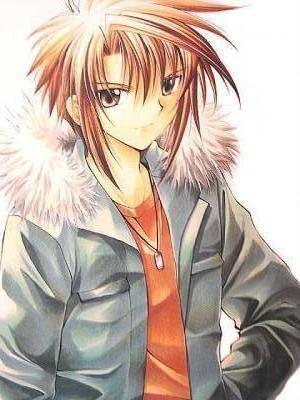 Personality:
He's a kind person and has a long patience indeed. He doesn't like people who were Annoying, Back fighters, feelers, Hypocrites, and selfish. He like Mitarashi Dango and Melon Breads. He's a funny guy and quite a talkative person. A peace loving and a gentle person.
Background: Kaiser was born in the Clan of Kagurasaka. His father was from that clan while her mother was from the Hikari clan so he possesses the Hikari Bloodline. He discovered the food called Mitarashi Dango which he began to like and soon became his favorite food. He lived with both of his parents and he grew up normally. But the age of 7, he figured out that he was unique, he was special in a way that, unlike other ninjas, he has the ability to manipulate papers. At the age of 9, he entered the academy.He really loves his origami at that time and he soon discovered how to make shurikens out of papers. The senseis in the academy were teaching their students 3 basic techniques which they can use on their battles. The Kawarami no Justsu, Bunshin no Jutsu, and the Henge no Jutsu.
Finally, the genin exam came fast. The academy students were told to perform the necessary jutsu in front the kage. Some of the academy students failed the exam, many have passed, only one had impressed the kage, and that was kaiser, and exactly on that day on, he became a genin.
The Kage appointed him to be in the team 10. His members were Fuji, and Nagi, and their sensei was Marcosias. Fuji used taijutsu techniques and a smart guy, while Nagi was a genjutsu user and she was one of the hottest girl on the academy, Kaiser utilizes on using papers and manipulating them, and their sensei Marcosias was known to be the fire expert. They all spent happy moments doing missions. Everytime, Kaiser and Fuji always have a friendly fight, and there was Nagi to stop them. The day the chuunin came. The test were really difficult that only the jounins can answer, but in the end, they all managed to past the exams, obviously, they cheat, well that's the only way to past the exams.
The second test immediately arrived like a cyclone of wind after their difficult test. The second trial was about getting heaven scroll together with the earth scroll, or likewise. The rules were very simple.They must collect the two scrolls, in order to do that, the two teams that met must fight until death.Second, never ever open the scroll. If they dare to open the scroll, who knows what is going to happen.Third, the teams must complete the test after 5 days, if not, they will remain as Genins. Last but not the least, you must live and survive. Each team was sent into different entrance.When all the teams were in their positions, the signal was sent and it was the beginning of the exam. Team 10 which is Kaiser's group went really fast like a tornado that immediately swept an entire forest. Their group was given a heaven scroll and their objective was to find and get the earth scroll. Its first opponent was the ninjas in the Village of Amegakure. The opponent specialized in using umbrellas with thousands of needles in it. Their opponent was very difficult. Fuji, who was the smart one, think of a plan which it really work. Nagi, who was a genjutsu user, used her specialty which tricked their opponent and fall into their trap. Kaiser who was a paper master end the battle in a brutal way but a very smart one. All of them perform a very nice teamwork and in their own luck, their opponent has the earth scroll.
It was the third day when the exam had started. They safely arrived into the tower and successfully finished the exam.
Kaiser was extremely happy on that day, it was the day when he was finally a chuunin and able to do C and B rank missions. One day, while Kaiser was resting into the forest, a man came walking into the forest and saw Him. He was wearing a worker suit and very rare. And what's more, he was wearing a very long cap which hid his face. He sat down were Kaiser was resting and they have a little chat. For a moment, the man challenged Kaiser into a battle and Kaiser accepted it. After 30 minutes, the man was standing and it seems he has any damage at all. While Kaiser in the other hand, was lying into the ground and gasping from his breath. It turned out the man was a genjutsu user and he used powerful techniques without even breaking a sweat.
Kaiser stood up from the ground he was laying and He walked towards the man crookedly. He asked the man if he could taught him some of his skills and how to do it. And After months and months of training, he managed to master it perfectly. One day, he wanted to thanked the man about all he gave to him, but, unfortunately, no one knows where he was and he disappeared without a trace.
As time goes by, it's only 3 months passed and Kaiser was already a jounin. After all those life threatening battle he was known to be the Manipulator of Ten Thousand Papers for his magnificent mastery of papers . Sometimes his comrades call him The Messanger of Promised Dreams and Illusions for his perfection in making illusions.
RP Sample:
Genin's Kawarami Training
Kaiser and Marcosius-sensei had reached their destination. A small river ran down from the mountains in the east and formed a shallow valley. Macosius and Kaiser stood by the riverside; the harsh wind of the plains was not as strong here. A little distance up the valley, to the east, a forest had managed to grow under the cover of the valley sides. A few trees also doted the riverbanks towards the west until the valley widened out and disappeared into the wind blown plains of the area.
"Now we start the second step of mastering Kawarimi no Jutsu. We shall focus on the aspect of duality. As you can see I have placed logs of roughly the right size on the other sides of this river. First I want to you try and reach for them with your chakra. This way we can figure out the limit of your chakra control. But don't activate the jutsu before I tell you too," explained Marcosius-sensei. Kaiser nodded and walked over to the bank of the river.
The closest log wasn't far away, maybe 3 meters on the other side of the river. Kaiser concentrated; he brought his hands together to form the seals. Tatsu, U, Saru. He let the image of the log fill his head; he felt how the seals unlocked his chakra and allowed it to flow. He felt how his chakra reached the log, then he let go. The chakra flowed back to him and back into his system. Kaiser turned his head and looked at his sensei who just nodded. The next log was further away, maybe 6 meters or so. Kaiser focused again, he pictured the log in his head. His hand's raced through the seals, Tatsu, U, Saru. Again his chakra reached out across the river, it happened in less then a second. But just as it touched the log Kaiser let go and the chakra flowed back to him.
He took a deep breath, it was quite exhausting to use chakra like this and there was a minor loose of chakra each time he pulled it back. But there were still three more logs. The next about 9 meters away.
Kaiser brought his hands together again, Tatsu, U, Saru. His chakra raced out, reached for the log, contacted. And he pulled it back again. "Were you able to reach it?" asked Marcosius-sensei softly. Kaiser nodded slightly, "Ouss," There were just two more logs, the closest about 12 meters away. He concentrated again, Tatsu, U, Saru. His hands raced through the seals, his chakra unlocked and reached out. But it never connected. It didn't take more than a second. But suddenly, he felt his chakra halt and then withdraw. It had barely reached but…
So that's my limit… He looked at the log with an almost annoyed glare. "Found your limit then?" Kaiser nodded slightly, "Hai, it felt like my chakra suddenly stopped, I couldn't reach it," his sensei nodded slightly, "Ay, that's you limit then. Well, we will be working on that now. Just keep trying and stretching further, by the evening you should be able to reach it. But don't complete it though…. Not until you are able to reach the log at the back" He nodded slightly, as always, practice was the key. Marcosius-sensei turned and walked over to a tree were he sat down. Kaiser was about to start again when Marcosius suddenly spoke, "I am quite surprised you managed it that far… Very impressive, shows you have really worked hard," Kaiser felt a surge of happiness; it almost never happened that Marcosius-sensei complimented his skills. Right, I'll manage to reach it this time, he thought as he again brought his hands together. He focused, Tatsu, U, Saru. His chakra unlocked and stretched out across the river.
__________________